We are currently in the second week of a three week unit looking at measuring student growth in my VanderCook MECA class entitled Teaching Music in a Common Core World. Several of my most recent posts detail the work I have been doing in that class in regards to teacher evaluation, measuring student growth, and the new National Core Music Standards. This week and next we are developing two Student Learning Objectives (SLOs) according to the Illinois State Board of Education's (ISBE) template. To begin our learning around ISBE's expectations around SLOs, our instructor provided us with a PowerPoint presentation entitled Measuring Student Growth for the Illinois Music Educator's Association (ILMEA) by Dr. Diana Zaleski, an educational psychologist and statistician for ISBE, in July 2014. The presentation provided a background of vocabulary and understanding for what measuring student growth looks like as part of Illinois' educator evaluations. We were also provided with a wealth of resources to help with the development of our two SLOs. The vast majority of these resources come from the ISBE website, specifically the pages on Balanced Assessment and the Performance Evaluation Advisory Council. The Balanced Assessment page contains training modules to help with understanding Illinois' requirements for measuring student growth, sample SLOs, assessment inventories and supports, and many other resources. The PEAC page includes more resources for teachers, administrators, joint committees, and and school boards as Illinois moves to implement the 2010 Performance Evaluation Reform Act.
About Student Learning Objectives
Much of the information I am providing in this section comes from the above mentioned PowerPoint presentation. While these resources are specific to the requirements for educators in the state of Illinois, I have found them to be immensely helpful and quite comparable to the system of evaluation in my school district. A Student Learning Objective "is a detailed process used to organize evidence of student growth over a specified period of time." The process is designed to be an organizational and planning tool with guiding questions and statements to help educators and evaluators measure student growth. This evidence is collected through the use of assessments. We want assessments to be authentic (demonstrate meaningful application of essential knowledge and skills), valid (provide accurate information that support sound decisions about each student's knowledge and skills), and reliable (consistent, dependable information that supports sound decisions about each student's knowledge and skills). These definitions were adapted from the Joint Committee on Standards for Educational Evaluation. Illinois defines three different types of assessment:
Type I - "a reliable assessment that measures a certain group or subset of students in the same manner with the same potential assessment items, is scored by a non-district entity, and is administered either statewide or beyond Illinois." In other words, a standardized test like the Iowa Assessments.

Type II - "any assessment developed or adopted and approved for use by the school district and used on a district wide basis by all teachers in a given grade or subject area." In other words, a common formative/summative assessment.

Type III - "any assessment that is rigorous, that is aligned to the course's curriculum, and that the qualified evaluator and teacher determine measures student learning in that course." In other words, an individual teacher-developed assessment.
Illinois requires that: "the evaluation plan shall include the use of at least one Type I or Type II assessment and at least one Type III assessment. In addition, the administrative code states that assessments used for each data point in a measurement model may be different provided that they address the same instructional content. If the joint committee determines that neither a Type I nor a Type II assessment can be identified, then the evaluation plan shall require that at least two Type III assessments be used." This means that unless otherwise specified by the teacher evaluation committee for the district, all teacher evaluations should be based off at least one standardized test or common assessment and one teacher-developed assessment. If the joint committee decides that a Type I or Type II assessment cannot be identified (likely for music educators and other fine arts courses), the teacher evaluations should be based off at least two teacher-developed assessments. SLO Elements and Cycle Student Learning Objectives contain five elements that occur as part of an implementation cycle. The five elements are:
Learning Goal - description of what students will be able to do at the end of a specified period of time aligned to appropriate learning standards. Learning goals include one big idea that integrates multiple content standards, and links units of instruction together. The big idea chosen should be representative of the most important learning and typical student growth in a specific content area, grade level, or classroom.

Assessments and Scoring - describe the assessments and scoring procedures that measure students' understanding of the learning goal. Data should be formatively collected prior to and throughout the unit of instruction and summatively at the completion of the unit of instruction. It is recommended to use rubrics to score assessments because rubrics:

focus on instruction and learning.

are not used to identify a specific score or grade on an assignment.

connects multiple authentic assessments over time to demonstrate a student's growth in learning.

provide clear instruction about expectations for an assignment or task.

improve the clarity of feedback.

provides students with a clear description of their strengths and weaknesses, and what they can do to improve.

enable multiple graders to evaluate student work consistently and reliably.

engage students in the learning process.

allow students to self-assess and track their progress over time.

are not used for competition. The focus is on the individual and rubrics are not used to compare an individual to a larger group.

Growth Targets - determine goals for individual student or groups of students growth

Teachers collect baseline data at the beginning of the school year or interval of instruction. Baseline data provides measures of student understanding and ability to apply content knowledge. Baseline data may include: early coursework, pre-assessment(s), student surveys, IEP, English language proficiency, attendance

Student growth targets are then differentiated according to starting group or individual student.

At the midpoint in the SLO cycle, the collected data should be examined to determine if students are on track to meet their growth targets.

Actual Outcomes - document how many students meet their growth targets. This step is discussed during Step 6, final review, of the SLO Cycle.

Teacher Rating - This portion of determining a teacher rating based on the SLO is still being developed by the ISBE. The goal is that student growth will represent 25-30% of a teacher's performance evaluation.
The steps of the cycle include:
Develop SLO - Teacher completes Elements 1, 2, and 3 of the SLO.

Initial Review - Evaluator and teacher review Elements 1, 2, and 3 of the SLO.

Monitor Progress - Teacher formatively assesses student growth according to Element 2 of the SLO.

Midpoint Check-In - Evaluator and teacher meet to discuss Elements 2 and 3 of the SLO. Adjustments are made to Element 3, if necessary.

Monitor Progress - Teacher formatively assesses student growth according to Element 2 of the SLO.

Final Review - Teacher summatively assesses student growth according to Elements 2 and 4 of the SLO. Teacher and evaluator discuss Teacher Rating.
We were provided with a blank template as well as an example SLO from a 1st Grade General Music Classroom. Many more examples can be found on the Balanced Assessment website. The examples and templates "provide guiding questions and statements" to "help teachers and evaluators reflect on all of the components necessary to develop a meaningful learning goal." My first SLO is included below: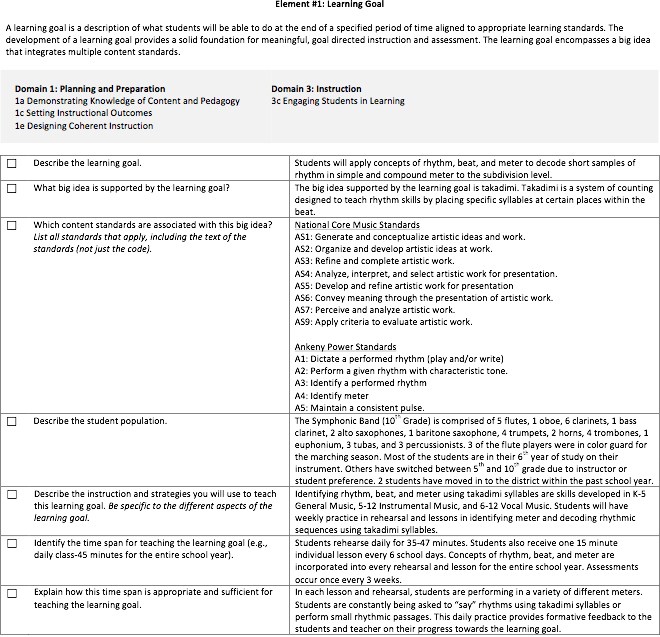 For privacy reasons, I am not allowed to post the data referenced in Elements 3 and 4. Next week, I plan to post my second SLO as well as a comparison/contrast between Illinois model for measuring student growth and my district's current teacher evaluation system.