I am sorry I have not been posting much. My wife and I moved into a bigger place across town shortly after I returned from my grad school program. Right after we moved, my paternal grandmother passed away and band camp started. We are finally settled in; the kitchen remodel is done, and we have internet! Pardon the sensationalist, clickbait title to this post. I thought I would steal a bit from the Fox News rhetoric to add some irony to the situation.Last week, Governor Branstad decided to blame school district superintendents for what he views as poor performance in Iowa schools. From an article in the Des Moines Register:
"We gave all this across-the-board money with no accountability and Iowa kind of stagnated while other states put a focus on things that increase their standards that improve their student achievement," he said. "And so we went from the best in America in the early '90s to the middle of the pack. We want to become best in America again."
He has defended his veto of $55.7 million in one-time funds by saying the solution to improving student performance is not to simply throw money at the problem.
He doubled down on that Monday, saying he prefers the state make more targeted investments in high-priority education programs rather than making a blanket allocation of dollars.
The position Branstad laid out Monday represents a departure from what are typically considered core conservative values, which put a priority on taking decisions out of the hands of state and federal politicians and giving control to local leaders.
Branstad said decisions about where to put money have been left up to superintendents for years "and we went from best in America to middle of the pack."
He also spoke at the annual School Administrators of Iowa conference, attempting to justify his veto. He is quoted in the Quad Cities Times:
"I recognize that schools must have adequate funds to operate day-to-day. I understand (this year's level of state school funding) means making some difficult choices," Branstad told the hundreds of administrators gathered in a ballroom at the Community Choice Credit Union Convention Center. "I believe what I signed into law is what Iowa can afford given the financial obligations we have made, the impact of the avian flu and the depressed farm income we are facing today."
"I'm very sorry that it came that late, and I'm very sorry that (lawmakers) used one-time money. But my position was very clear from the beginning," Branstad said. "We want to assure your schools will receive sustainable, predictable funding and never again face the massive, across-the-board cuts they faced in the past because the state couldn't deliver what it promised."
What money is he talking about?
Let's take a look back at the last twenty years of Iowa educational funding. In 1994, the State Cost Per Pupil was $3,336 and the allowable growth (now state supplemental aid) was set at 2.1%.
As a brief review, State Cost Per Pupil (SCPP) is set by multiplying the previous years SCPP by the growth rate. Thus, SCPP for 1995 would be $3,406, a 2.1% increase from $3,336. The state is responsible for funding 87.5% of SCPP from the General Fund. The revenue for this 87.5% comes from a property tax of $5.40 per $1,000 of assessed valuation on all taxable property in each school district. Districts can fund up to the other 12.5% with additional property taxes.
This information was taken from the Legislative Services Agency's summary of Major School Finance Law Changes from 1971-2014. In the report, you can see the specific legislation each year that set state supplemental aid/allowable growth and how this determined the state cost per pupil. Before 1993, SCPP was determined by a formula based on inflationary and economic factors. I am doing more research on what this formula looked like.
There are some other adjustments made to school funding that aren't represented above they include:
FY1996: Increased the regular program foundation base for purposes of the school aid program from 83.0% to 87.5%

FY2000: Added $38 to SCPP to adjust for gifted and talented funding

FY2002: 4.3% across the board reduction of General Fund ($194.02 per pupil)

FY2003: In 2001, originally set Allowable Growth for 2003 at 4% (SCCP of $4,692). Reduced to 1% in 2002 (reflected in chart above)

FY2003: 2.5% across the board reduction of General Fund ($113.93 per pupil)

FY2008: 1.5% across the board reduction of General Fund ($80 per pupil)

FY2009: 10% across the board reduction of General Fund ($554.60 per pupil)

FY2014: One time increase of $120 for SCPP
Just as an added point of information: Terry Branstad served as governor of the state of Iowa from 1983-1999 and again from 2011-Present. From 1999-2007, our governor was Tom Vilsack. From 2007-2011, our governor was Chet Culver.
So now let's do some math. According to US Inflation Calculator:
So it would appear we are $936.68 above what we currently need based on inflation, right? This would only be true if education were exactly the same in 2015 as it was in 1993. The world has changed quite a bit in the past twenty-two years. Does $936.68 per student really reflect what has changed in education over that time period? Think about what has been implemented just in the last fifteen years: No Child Left Behind, Race to the Top, 1:1 initiatives, Common Core, Iowa Core, and that is just naming a few. Add in the shortfalls accrued across that time period ($784.55 per pupil), and we are very behind.
The Iowa Association of School Boards estimates that the cost of education rises approximately 3% each year. That would mean for next school year alone we are behind by at least $111 per student. Compound this over the several years we have been underfunded (2002-present) and we are very behind: Assuming that FY2003's original SCPP was "adequate" at $4,512 prior to the 4.3% across the board reductions, increasing this cost 3% annually would result in a SCPP of $7,029.55. That's $583.55 per pupil less than we will be receiving!
According to the Iowa Department of Education's 2014 Condition of Education Report:
The number of minority students in Iowa's public schools continues to increase and is at an all-time high (100,151). Minority students make up 21.1 percent of the student body.

The percentage of students eligible for free-or-reduced priced lunch increased slightly in 2013- 2014. 41.1 percent of Iowa students were eligible in the 2013-2014 school year compared to 41.0 percent in the 2012-2013 school year.

The number of students who are English language learners (ELL) continues to increase. In the 2013- 2014 school year, 5.3 percent of students were reported as ELL up from 5.0 percent in 2012-2013.

The number of computers available to Iowa students continues to increase. In 2012-2013, there were approximately 1.4 students per computer. This compares to 4.1 students per computer in 2000-2001.
All of these things cost money! Let's go back to the 2014 Condition of Education Report for more data:
If we add that to our table above, we see estimates of the real cost:
What other data can we pull from this report?
How has Iowa stagnated?
A family friend recently made the statement that for the past 10 years, our increased investment in education has not produced an adequate increase in student proficiency. This seems to align with what our governor is alleging in his statement to the Des Moines Register. But what achievement are we talking about? Is there a correlation between the SCPP and "student proficiency?"
The 2014 Iowa Condition of Education Report lists seven required state indicators for student success:
The percentage of all fourth, eighth, and eleventh grade students achieving a proficient or higher reading status on the Iowa Assessment;

The percentage of all fourth, eighth, and eleventh grade students achieving a proficient or higher mathematics status on the Iowa Assessment;

The percentage of all eighth and eleventh grade students achieving a proficient or higher science status on the Iowa Assessment;

The percentage of students considered as dropouts for grades 7 through 12 and the percentage of high school students who graduate;

The percentage of high school seniors who intend to pursue postsecondary education/training;

The percentage of high school students achieving at the ACT national average score or above and the percentage of students achieving an ACT score of 20 or above; and

The percentage of high school graduates who complete a "core" high school program of four years of English-language arts and three or more years each of mathematics, science, and social studies (Iowa Administrative Code – 12.8(3))
The Condition of Education provides several different charts to demonstrate each of these indicators. They are summarized below with notes: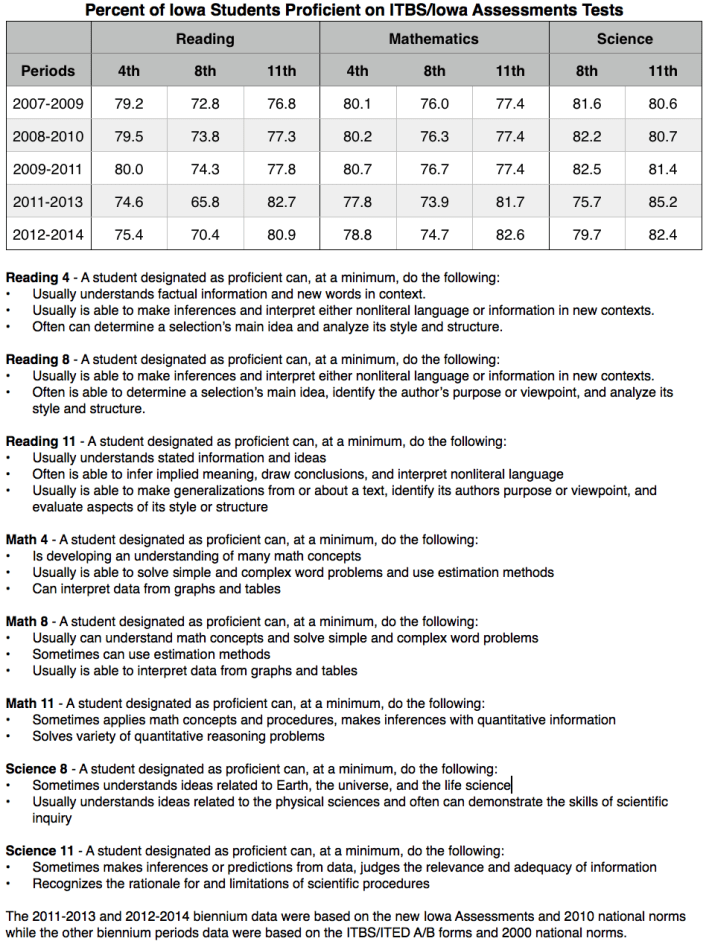 All of this data for the seven indicators of success compare scores within the state of Iowa. If we want to compare Iowa to the rest of the nation, we need to look at the National Assessment of Educational Progress (NAEP). From the 2014 Condition of Education Report:
The National Assessment of Educational Progress (NAEP), conducted by the U.S. Department of Education since 1969, is the only national assessment of student achievement. The NAEP state assessments have been administered periodically in grades 4 and 8 since 1990 in the areas of reading, mathematics, science, and writing. In 2009, Iowa participated in the first state NAEP assessment for grade 12 students.
NAEP assessment scores in reading and mathematics are reported on a scale range of 0 to 500 while the science and writing assessments are reported on a 300 point scale. Iowa's average assessment scale scores in 2013 exceed the national averages in grades 4 and 8 for reading and in grade 4 for mathematics (Table NAEP 1). The Iowa average score in grade 8 mathematics is not statistically different from the national average.
The National Assessment Governing Board uses three achievement levels for reporting student perfor- mance results: Basic, Proficient, and Advanced. Basic represents at least a partial mastery of prerequisite knowledge and skills that are fundamental for proficient work at each grade. Proficient represents solid academic performance, and Advanced represents superior performance. Students not achieving the Basic level are classified as Below Basic.
In 1992 and 1996, accommodations were not provided to students taking the assessment. In 2009, only eleven states administered the 12th grade assessment. In 2013, only thirteen states administered the 12th grade assessment. Blanks indicate the assessment was not given. Numbers in parentheses indicate the number of states who scored significantly higher than Iowa.
Is the educational landscape across our country changing? Yes. Is it as dire as our governor makes it out to be? No. Does money solve the problem? Let's look at what some of those states are investing in education:
According to the National Education Association's Rankings of the States 2014 and Estimates of School Statistics 2015, Iowa ranks 26th in the nation in Public School Revenue per Student in Fall Enrollment 2013-2014 with $11,887. This number is the total amount spent per student, whereas the SCPP mentioned above is money spent from the General Fund. The General Fund is the primary funding source for school districts in Iowa.
What happens if we compare these dollar amounts to the schools that ranked higher than Iowa on the 2013 NAEP?
For this chart, I looked at the 2013 NAEP for Mathematics and Reading in 4th, 8th, and 12th Grade. I counted the number of times a state was ranked higher than Iowa, differentiating between when the score was identified as "significantly higher" vs. "not significantly different." I then input each state's public school revenue per student in fall enrollment for 2013 from the NEA chart above. This chart is sorted in descending order based on the amount of per pupil spending for each state.
16 states that spend more per pupil than Iowa and ranked higher on any of the six possible exams also:
Scored significantly higher on an average of 2.1875 of the exams

Scored not significantly different on an average of 1.5 of the exams

Ranked higher on an average of 3.6875 of the exams
12 states that spend less per pupil than Iowa and ranked higher on any of the six possible exams also:
Scored significantly higher on an average of 0.9167 of the exams

Scored not significantly different on an average of 1.4167 of the exams

Ranked higher on an average of 2.3333 of the exams
Conclusions
Iowa is behind in how it funds education. Between the economic recession that began in 2009 with its resulting across the board cuts and the consistent underfunding since, schools in Iowa have been forced to "tighten their belts." They are already operating at maximum efficiency. Comparing Iowa's per pupil spending with other states reinforces this conclusion. Can we expect Iowa schools to be "first in the nation" when our funding is 26th and below the national average?
Iowa students scores on state and national assessments have remained consistent or increased over the past twenty-three years. The Governor's choice to use the word "stagnant" reveals more about how well Iowa educators have done to do more with less than it does about the progress of Iowa's students. Districts have been forced to make cuts over the past seven years, yet students scores have maintained or increased. The blame for other states surpassing Iowa lies not with our schools. This is especially clear when compared to states that our spending more pupil than Iowa.
Governor Branstad does not know what is best for Iowa's future. Governor Branstad has come up with many excuses for why he supported only a 1.25% state supplemental growth rate (school boards were calling for 6%) and vetoed one-time funds of $55.7 million. It is the "fiscally responsible" choice. Superintendents have poorly spent the funds the state has given them. The avian flu and depressed farm income have left us with not enough funds for education.
Iowa's Department of Management reported on August 4th that Gross General Fund Receipts are up 5.1% for a total of $491.2 million. That's $15 million more than last year! We don't have the money?
The State of Iowa has awarded $84.1 million to Iowa Fertilizer as it builds a plant in southeast Iowa. In exchange, the company agreed to provide 169 jobs. Iowa Fertilizer is requesting a further $25 million in incentives. This $1.9 billion facility being built will provide Iowa with 180 jobs. $109.1 million for 180 jobs. Meanwhile, the governor vetoes a bi-partisan agreement of a one-time $55.7 million shot in the arm for Iowa schools, and over 1,100 teachers lose their jobs between pink slips and attrition through retirement.
Pardon my French, Mr. Governor, but I call bull.
What can we do?
We need to make our voices heard. The Iowa State Educators Association will be walking in the Iowa State Fair Parade to protest the governor's recent vetoes of education funding and funding for Iowa's two mental health facilities.
Pat Kearney is calling for "parents, students, teachers, administrators, school board members, and concerned citizens" to come to the capital on Saturday, January 16th to let legislators know our concerns for the future of Iowa education.
We need to get our voice heard. The general public and state legislators need to know what Iowa students need. They need to be aware that local districts have cut education budgets to the bone. They need to know our Governor and other Republican legislators are not backing up their rhetoric with hard data. Let's bring the discussion to them well before it is time to set funding for the 2016-2017 school year. It's time to fight.